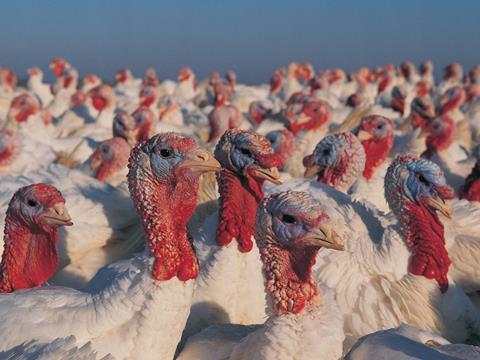 The government's new visa scheme for foreign poultry workers risks being too late to avert shortages of turkey ahead of Christmas, the British Poultry Council has warned.
The temporary scheme for up to 5,500 workers was announced by Defra yesterday as part of a government package that will also allow up to 5,000 EU-based drivers to come to the UK to transport food and fuel in the run-up to Christmas.
It marks a U-turn in government policy after it had previously refused to countenance any moves to bolster the meat and poultry sectors with foreign labour.
The new visa will run from the start of October until 24 December and would ensure farmers and food producers had "access to the necessary workforce to mitigate any potential risks to Christmas food supply", Defra said.
"It is a top priority to ensure there are enough workers across the country's supply chains to make sure they remain strong and resilient," said Defra secretary of state George Eustice. "We have listened to concerns from the sector and we are acting to alleviate what is a very tight labour market."
After a turbulent summer punctuated by warnings the sector's mounting labour crisis could lead to shortages of turkey at Christmas and less choice overall (plus the disruption caused by the recent CO2 gas crisis), the BPC welcomed the visa announcement.
But after the imposition of post-Brexit limits to non-UK labour had created an exodus from the sector, there was now "a risk this intervention comes too late", warned BPC CEO Richard Griffiths.
"Supply chains are not something that can be simply switched on and off, so plans for production are already well underway and the necessary cutbacks due to ongoing labour shortages have already been made," Griffiths added, while taking a swipe at the government's classification of poultry sector workers as "low-skilled".
"Key workers in food, regardless of where they come from, are an important part of Britain's cultural fabric and prestige," he said.
"British food producers keep this country running and must have access to the skills and talent this country sorely needs to ensure food for all. We look forward to working with government and invite them to take another look at their immigration and trade policies – which risk crippling British food security – to ensure longer-term solutions to the issues."
His comments come amid renewed warnings at the weekend, first reported by The Grocer in July, over a potential lack of turkeys in the run-up to Christmas due to shortages of labour.
Kelly Turkeys MD Paul Kelly told the BBC the "damage has already been done" as fewer birds were on the ground this year in expectation of labour shortages. The Grocer has previously reported suppliers were looking at a 20% reduction in volumes this year, while Avara Foods CEO Andy Dawkins has said the labour shortages could lead to a longer-term switch away from fresh turkeys to frozen.
Defra's U-turn follows the publication of an open letter to government last week by 12 major food sector organisations, which called for the introduction of a so-called 'covid recovery visa' to alleviate "crippling" labour shortages across the supply chain.
However, the government's commitment in two very specific areas with its temporary visas did not answer calls in the letter for a 12-month visa scheme that "would enable all involved throughout the supply chain to recruit critical roles as a short-term response to labour shortages", British Meat Processors Association CEO Nick Allen pointed out.
It also ignored the plight of the red meat sector, which has been struggling with similar labour shortages seen by poultry processors, particularly those in the pig industry, he suggested.
"We were very disappointed not to be included, and that poultry scheme does not include butchers," of which there are critical shortages, Allen said.
"When we are close to having to undertake welfare culls on pig farms [due to shortages of labour throughout the supply chain] it's very disappointing."