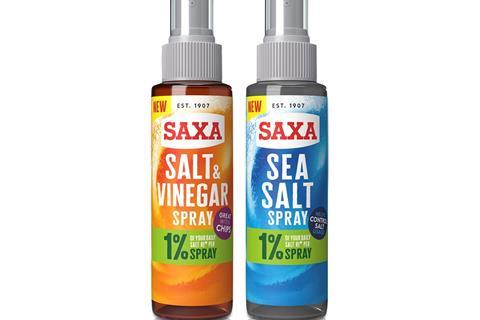 Premier Foods has launched a duo of Saxa salt sprays it claims are a market first.
The 100ml sprays – Sea Salt and Salt & Vinegar – are billed as allowing shoppers "to take greater control of their salt intake and create a convenient way to season their dishes at home".
A spritz of each contains 1% of shoppers' daily salt intake.
Salt consumption levels in the UK were "above recommendations, with the average adult having 40% more salt in their diet than official guidance", said Helen Touchais, brand director for flavourings and seasonings at Premier.
"Having seen the spray bottle format successfully rolled out in other categories, we expect this launch to drive category value by enabling shoppers to control their salt intake without impacting the enjoyment of their meals."
The NPD was "particularly relevant when we look at the recent rise in home cooking and wider repertoires people are now working with at home", Touchais added.
Premier's salt spray bottles contain 50% recycled content and contain the equivalent of 450 sprays.
They will roll out from 27 September (rsp: £1.99).