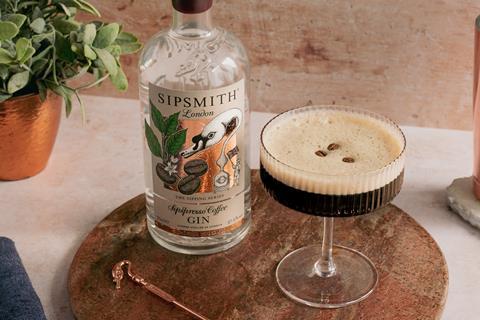 Sipsmith is hoping to tap espresso martini fans with a new Sipspresso Gin.
The drink (37.5% abv) is billed as combining a "sensational blend of the finest Brazilian and Rwandan ground coffee beans" from Pact Coffee with cinnamon and fresh vanilla for a "true, full bodied flavour".
It offered "velvety chocolate and coffee bean notes", followed by "rich liquorish and star anise, with cacao nib and smooth vanilla", said the brand.
"Layering Pact's Brazilian and Rwandan ground coffee with cinnamon and fresh vanilla on top of our original London Dry Gin base creates a delightfully rich, warm and indulgent gin with a smooth and balanced finish," said Sipsmith master distiller Jared Brown.
Shoppers would recognise the brand's "pursuit for perfection", he added, and "will be delighted by each sip in the signature Sipspresso Martini – the ideal indulgent treat as we head into the winter months".
It's the third in a series of limited edition 'Sipping Series' gins from the London distillery, which has so far included Strawberry Smash and Chilli & Lime gins.