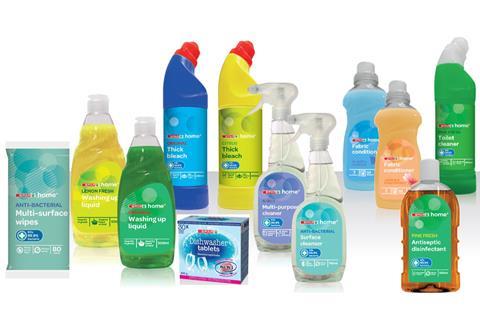 Spar has launched a range of household cleaning products under a new sub-brand called Spar Home+.
The 12-strong range will debut in participating stores across the UK this week.
These include thick bleach, washing-up liquid, fabric conditioner, antiseptic disinfectant, liquid toilet cleaner, antibacterial wipes and cleaner spray, multi-surface trigger spray and dishwasher tablets.
Spar said it was responding to the surge of purchases among the homecare category during the early days of Covid.
"Over the last 12 to 18 months, we have seen how products with disinfecting properties have soared in demand, including disinfectants, bleach and multipurpose cleaners," said Spar UK senior brand manager Amrit Rebello.
"To help these products stand out in-store and to enable customers to actively recognise the range, we have created a new design which incorporates a sub-brand new to Spar, called Spar Home+.
"The plus sign represents power, a key aspect of what customers would expect from cleaning products."