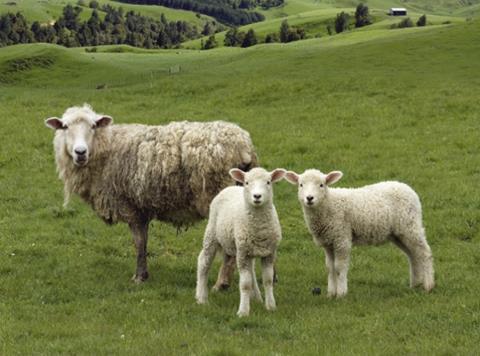 The UK has agreed a free trade agreement with New Zealand that will cut red tape on imports of wine, honey and kiwifruit.
The UK government hopes it will "pave the way" for joining the Comprehensive and Progressive Agreement for Trans-Pacific Partnership (CPTPP), a trade group of 11 nations including Australia, New Zealand and Japan.
The 'agreement in principle' is a major step towards a full free trade agreement, though the process of finalising the full legal text can take months.
The UK has given New Zealand greater market access for agricultural products such as lamb, in return for recognition of British professional qualifications that will make it easier for service providers to work in New Zealand.
The free trade agreement will eventually eliminate all tariffs on New Zealand exports to the UK, with 97% of those tariffs eliminated on day one of the agreement coming into force
New Zealand beef will see its tariffs gradually phased out over 10 years, while NZ lamb will be duty-free after 15 years. Butter, cheese, and apples will also all gain tariff-free access to the UK.
NFU president Minette Batters expressed concern over the deal, arguing it meant "we will be opening our doors to significant extra volumes of imported food – whether or not produced to our own high standards – while securing almost nothing in return for UK farmers".
"The government is now asking British farmers to go toe-to-toe with some of the most export-orientated farmers in the world, without the serious, long-term and properly funded investment in UK agriculture that can enable us to do so."
Under the deal, British chocolate and gin could see a 10% reduction on import duties into New Zealand, according to the Independent, while New Zealand's wine exporters will see the removal of tariffs worth about 20 pence a bottle when sold in the UK.
Dominic Goudie, head of international trade at the Food & Drink Federation, said: "Food and drink manufacturers welcome the news that the UK has agreed in principle a trade deal with New Zealand."
Food and drink trade with New Zealand was worth more than £661m in 2020, and the deal "removes a range of tariffs that currently constrain exports" he added.
Mike Cherry, chair of the Federation of Small Businesses, welcomed the chapter on small businesses. "New Zealand has long been a priority market for the UK's small exporters – more than a quarter of which already sell there – and we welcome efforts to build on existing trade ties that go back many decades."
Yet the deal will ultimately have little effect on the UK's overall economy. According to the Department for International Trade's internal assessment, the deal will affect the economy by –0.01% to 0.01%.
Prime minister Boris Johnson said the deal would cut costs for exporters, as well as "cementing our long friendship with New Zealand and furthering our ties with the Indo-Pacific".