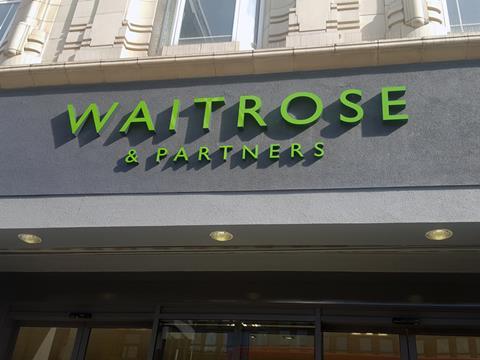 Waitrose was the only major retailer to record sales growth over the past three months, according to market share data from Kantar.
Sales at the retailer were up 0.6% in the 12 weeks to 8 August, while sales across the entire grocery market dropped 4% over the same period.
Waitrose attracted 350,000 more shoppers than the same period last year, and increased its market share by 0.2 percentage points up to 4.9%, Kantar said.
Fraser McKevitt, Kantar head of retail and consumer insight, attributed the strong performance by Waitrose to strong growth in online and shoppers conducting more frequent trips with small baskets than at the height of the pandemic.
He also suggested Waitrose benefited more than rivals from elderly shoppers feeling more confident in returning to bricks and mortar stores. "To a large degree now, those shoppers are coming back, which is a major contributor to them growing fastest in the market," he said.
Waitrose was also likely to be reaping the rewards of keeping its serve over counters open, McKevitt said.
This week's figures also found the number of people buying groceries online hit its lowest levels since October last year, with the share of online grocery sales dropping to 13% from its 15.4% peak in February this year.
Waitrose managed to buck this trend, said McKevitt. "It is the fastest-growing online retailer at the moment, from a relatively small base, but that is positively contributing to its performance, and I think it still has capacity to grow that even more."
Waitrose has scaled up its online operations considerably since parting ways with Ocado last year. It ramped up its delivery capacity from 50,000 orders a week pre-pandemic to 250,000, enabling it to hit £1bn in online sales nearly a year ahead of target.