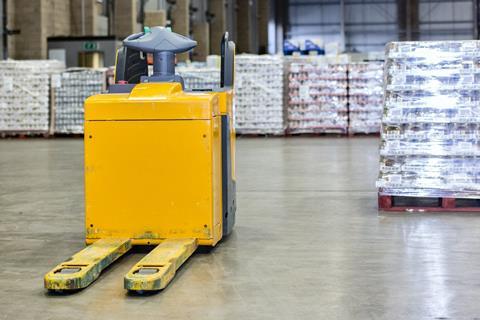 Food companies are now battling rising pallet costs in the latest inflationary pressure to hit supply chains.
Pallet prices in Eastern Europe have risen from around €5 to €25 this year, while in Italy they have gone from €15 to €25.
The UK now has some of the most expensive pallets in Europe, according to European Federation of Wooden Pallet and Packaging Manufacturers.
The price rise is the result of reduced timber availability and soaring demand. Scandinavian and German timber has been diverted to the US and China to meet their demand, while Irish timber production has fallen due to a backlog of new felling licences, said Stuart Hex, secretary general of the Timber Packaging and Pallet Confederation.
The cost of timber, as well as steel for nails, constitutes more than three-quarters of the overall pallet price therefore price hikes for food companies have been "unavoidable", said Hex.
But having navigated Brexit without any significant disruption to service, Hex said the pallet industry is "well versed in making sure that the current pressures don't have an adverse effect on us supplying who we need to."
One supplier said rising logistics prices this year – including transport, pallets, and customs clearance – have added an extra £1m onto their business.