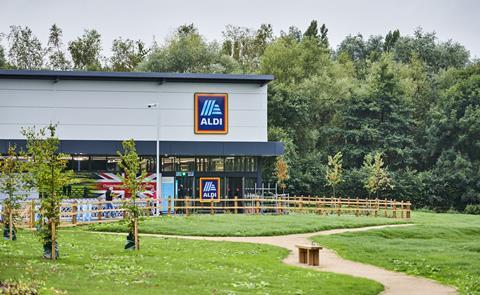 Aldi is to open 15 stores across the UK by the end of the year, taking its estate to about 950.
The discounter, which currently has "more than 930 UK stores", is set to arrive in new locations including Edinburgh, Orpington and Poole.
It formed part of Aldi UK's "commitment to invest more than £1.3bn by 2023, with plans to open 100 new stores over the next two years", it said.
Each store is set to create an average of more than 30 jobs.
Aldi has a long-term target, set by CEO Giles Hurley in 2018, of 1,200 UK stores by 2025.
Read more: Lidl and Aldi 'will be 12-24 months late hitting store opening targets'
"There are still too many people for whom shopping at Aldi isn't a convenient option," said Aldi UK national property director Ciaran Aldridge.
"We're committed to changing that and opening nearly four new stores a week before Christmas clearly demonstrates our progress with this.
"The new stores bring us one step closer to our goal of making our award-winning products at unbeatable prices easily accessible to even more shoppers across the country, and we look forward to welcoming local customers in for their weekly shop."
Here's the full list of locations set to gain an Aldi this year:
• Windsor, Berkshire
• Luton, Bedfordshire
• Stamford, Lincolnshire
• Neath, Wales
• Govan, Scotland
• Edinburgh, Scotland
• Bedlington, Northumberland
• Biddulph, Staffordshire
• Cumnock, Scotland
• Orpington, London
• Hamilton, Scotland
• Llanelli, Wales
• Cheam, London
• Tamworth, Staffordshire
• Poole, Dorset