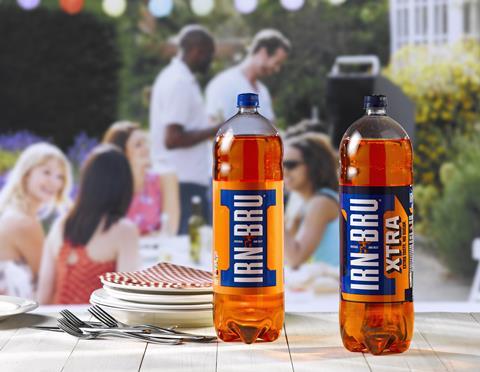 Top story
Irn-Bru maker AG Barr has posted record first half profits as the out-of-home soft drinks market rebounded, but warned second half margins will slide on rising costs.
For the 27 weeks ended 1 August 2021, AG Barr posted a 19.5% revenue increase to 135.3m, reflecting strong trading across its soft drinks and Funkin cocktails divisions.
On a like-for-like basis, excluding the extra week of trading, revenue was £128.5m, an increase of 13.5%.
AG Barr said the 2020 soft drinks market was characterised by the migration of out-of-home consumer demand into the home environment, which is now reversing as the hospitality sector and on-the-go channels begin to recover.
Its Barr Soft Drinks has benefited from recovery in "on-the-go" consumption, growing volume and improving product mix, while "at home" sales have remained strong. Recent new product launches are "performing well", with positive consumer feedback and encouraging customer listings.
The Irn-Bru brand as a whole has grown revenue by 18.9%, supported by marketing activity and the continuing recovery of on-the-go consumption.
Total Rubicon brand sales (excluding Rubicon RAW Energy) increased by 26.2% with still, sparkling and spring variants all delivering growth.
Funkin has capitalised on the increase in demand for cocktails at home, through both traditional retail and direct to consumer channels, becoming the UK's No.1 ready to drink cocktail brand.
Its "at home" cocktail sales have grown by 114.3% to £10.2m, representing 54.5% of Funkin's total sales in the first half of the year. The group will accelerate investment in the second half of the year to develop Funkin as a premium consumer brand.
Statutory profit before tax in the period rose almost five-fold to £24.4m from £5.1m in the same period in 2020.
This "record" performance reflects positive underlying volume momentum as well as a number of benefits specific to the circumstances in the first half of this year, estimated to be around £5m.
However, AG Barr said it does not expect to maintain the current level of operating margin in the second half, reflecting the rephasing of our increased marketing investment and its anticipation of increased cost inflation across the balance of the year.
Full year operating margin is expected to be slightly ahead of the prior full year.
The positive first half performance has seen the group reinstate an interim dividend of 2p per share, having not paid on last year.
CEO Roger White commented: "AG Barr is a growth-focused business operating in resilient and growing market categories, with dynamic brands, great people and a strong financial position.
"Our positive first half performance reflects these fundamentals as well as the encouraging performance of recent innovation launches in both soft drinks and cocktails.
"We remain on track to deliver strong full year profit performance, slightly ahead of our 2019/20 pre-COVID level."
AG Barr shares have edged back 0.4% to 537p so far today.
Morning update
English wine brand Chapel Down has grown turnover by 64% in the first half and moved into profit after the disposal of its beer and cider brands.
Wine revenues were up 64% in the six months to 30 June to £7.8m.
Group revenues increased by 35% to £8.1m, reflecting a 76% drop in sales of its now disposed of Curious Drinks beer and cider portfolio to just £287k due to the closure of the on-trade.
On a continuing operations basis, it posted a 76% increase in gross profit to £3m.
Administrative expenses on a continuing basis increased by 42% year-on-year reflecting investment in marketing to support national retailers and the growth in direct to consumer sales.
Adjusted EBITDA on a continuing basis increased 232% to a profit of £801k.
On a group-wide basis adjusted EBITDA was a profit of £618k compared to a £419k loss last year.
Following the successful fundraise in July 2021 which raised £6.876m, and the securing of a new £15m asset based lending facility, the group is able to continue to invest to grow its supply of fruit and to process it into the best wine possible at an improved winery.
It said that the 2021 harvest has been one of the more challenging in recent years with yields expected to be down by some 25%, but it has built stocks sparkling wine over the last four years to enable it to continue to maintain growth momentum.
It will also be planting further vineyards (150 acres) in 2022/3 and expects yields to improve long term as viticulture improves and our latest plantings on better sites start to bear fruit.
Outgoing CEO Frazer Thompson commented: "As I pass on the reins of the business to Andrew Carter, I do so with the business in better shape than ever, and with a great team in place who have managed our growth in this extraordinary crisis. Andrew has an outstanding pedigree, having previously been MD of Chase Distillery and CCO of Treasury Wine Estates, and he has joined at the ideal time.
"As we emerge from the crisis there is a real excitement around English wine from every quarter – trade, consumers, critics and retailers. In Chapel Down we have the leading "power brand" with a growing reputation, the broadest distribution, a rapidly growing on-line business and huge potential for growth."
On the markets this morning, the FTSE 100 is down 0.3% to 7,041.9pts.
Early risers include Hotel Chocolat, up 1.6% to 404p, Coca-Cola Europacific Partners, up 1.6% to €49.15 and Glanbia, up 1.4% to €14.19.
Fallers so far include McBride, down 3% to 76.3p, Ocado, down 2.4% to 1,701.5p and Marston's, down 2.4% to 81.4p.
Yesterday in the City
The FTSE 100 opened the week slightly up, rising 0.2% to 7,063.4pt yesterday.
Risers included travel retail and foodservice specialists, including WH Smith, up 5.5% to 1,805.5p, SSP Group, up 4.8% to 290.6p, Compass Group, up 3.6% to 1,536.5p, Marks & Spencer, up 3% to 192.8p and Greencore, up 2.8% to 146.1p.
AG Barr was up 1.9% to 539p ahead of its interim results this morning.
Other risers included Associated British Foods, up 3% to 1,937.5p and Devro, up 2.3% to 219p.
The day's fallers included Glanbia, down 4.3% to €14.00, Naked Wines, down 3.9% to 712p, McBride, down 3% to 78.6p, Nichols, down 2.5% to 1,355p, Deliveroo, down 2.1% 298.3p, DS Smith, down 2% to 424.1p and Sainsbury's, down 1.2% to 291.9p.