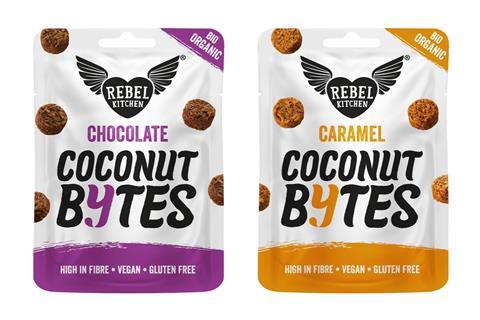 Dairy-free drinks brand Rebel Kitchen is entering into the confectionery category with a duo of coconut-based treats.
Called Coconut Bytes, they are billed as "crunchy, bite-sized snacks made from a few simple minimally processed ingredients", like coconut, tapioca and sea salt. Two flavours – chocolate and caramel – will launch.
The vegan and organic 'bytes' are free from gluten and contain no preservatives or artificial ingredients, and are claimed to be "a good source of fibre".
They will be launch into Amazon and the brand's webstore from tomorrow (4 November), with a wider retail rollout to follow in the coming months (rsp: £1/26g).
The launch coincided with the growth of plant-based products and "increasing demand post-Covid-19 for organic food and drink", said Rebel Kitchen.
There was "still little choice in the snacking category for a product that fulfils both needs", it added.
Nurture Brands founder and Rebel Kitchen co-founder Ben Arbib said: "Consumers are becoming increasingly conscious of what they eat, where it comes from and its environmental impact.
"There aren't enough organic and plant-based alternatives and we're on a mission to change that."
Sales of organic food and drink products are certainly surging, recording the fastest growth in 15 years during the pandemic. Over the 52 weeks to 16 May 2021, value sales of organic grocery products were up 12.2% to £1.4bn [Kantar].